716ers Elite AAU Basketball
716erseliteaau@buffalo716ers.net
Tryout Dates
2/20- Boys Tryouts - Christian Central Academy 
10u-12u - 3:30pm-5:00pm
13u-14u 5:30pm-7:00pm
2/27- Boys Tryouts - Christian Central Academy 
15u-16u - 3:30pm-5:15pm
17u-18u  5:30pm-7:00pm
3/6 -Girls Tryouts- Christian Central Academy
10u-12u - 3:30pm-5:00pm
13u-14u 5:30pm-7:00pm
3/6 -Girls Tryouts- Christian Central Academy
15u-12u - 5:30pm-7:00pm
17u-18u 5:30pm-7:00pm
Mission
The 716ers Elite AAU Basketball Association focuses on developing and training young athletes in basketball, sportsmanship, and athletic competition.

Practice
We focus on the fundamentals, skills, and techniques of the game of basketball. Each coach will break down and assess each athlete's skills. We believe the young athletes of today, do not get the proper training and skill work, necessary to make them competitive on the court.

School & Homework Policy
We monitor student progress throughout the season. Students and parents must submit a copy of the student's report card, and monthly progress reports from their teachers. "We believe it is important for our athletes to understand, that success in the classroom, is just as important as success on the court," stated 716ers Elite President, Tawan Slaughter.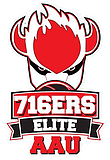 Official Member of the Amateur Athletic Union